BSU to host Open Mic Night to highlight Black artists on campus
The Black Student Union is hosting an Open Mic Night on Friday, March 18 at
8:30 p.m. in the Centenary Room to provide on-campus artists an opportunity
to share their craft through poetry and music.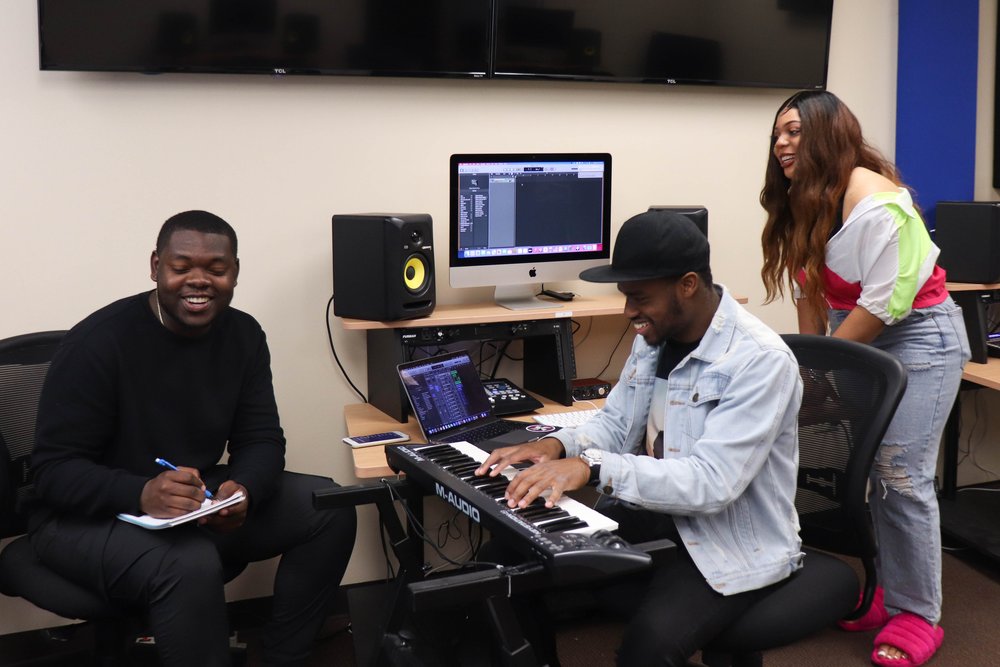 The Black Student Union is hosting an Open Mic Night on Friday, March 18 at 8:30 p.m. in the Centenary Room to provide on-campus artists an opportunity to share their craft through poetry and music.
While at Lee, various artists form their craft by incorporating experiences and faith into their work. Lee students Ardrain Cain, Jeroy Watson and Faith Miller will be performing at the Open Mic Night to support their peers and the expression of art.
Cain, a sophomore biblical and theological studies major, said he feels called to inspire people through making music, teaching and preaching. He seeks to connect human experiences to spiritual elements in his music.
"I believe it's important to incorporate both the natural and the spiritual aspect," said Cain. "I love to talk and just educate people on depression and anxiety. I think love is also a good thing to talk about in music."
When Cain begins his creative process, he said he often receives inspiration from scripture and "spontaneous worship." Cain is a worship leader and said his experiences in leading worship have greatly inspired him.
As an up-and-coming artist, Cain hopes to educate people on the "mystery of the scriptures" through his lyrics.
"As a Christian artist, I want my music to be theologically based," said Cain. "To share the heart of God."
Cain grew up listening to Tye Tribbett and said the American gospel singer was an inspiration to him. Cain said Tribbett intertwined various genres of music, and "made Gospel music cool." Cain plans to introduce R&B and hip-hop sounds into his own work.
Cain hopes people will support Black creators by getting to know the artists and their culture.
"I want to have longevity," said Cain. "It's not really about the accolades and the awards, but whatever I do, I want to be successful in it."
To learn more, visit Cain's Instagram.
Watson, a freshman music major, will be playing the keyboard throughout the Open Mic Night. He defines music as going beyond the sound and becoming "nature."
"Having the ability to actually create, it's a blessing," said Watson. "You can really save so many people with your music, and it is my life."
Watson does not categorize his music by a specific genre; he is open to collaboration with a variety of artists and sounds.
"I want to reach everybody," said Watson. "Really connect, explore and discover so many more sounds so I can understand the taste of what other people like so they don't think I like one specific thing."
Watson's music is inspired by "life itself," and the sharing of people's testimonies in Scripture. Watson is motivated by his own life events and hopes to express his emotional state in relation to biblical application in his music. He also wants to bring awareness to mental health issues and challenge the judgment face by people with mental illness.
"I am sharing an aspect of my life and hopefully when people hear it, they will relate," said Watson.
Watson hopes listeners learn to recognize their feelings and to "be bold," and he wants to see more respect and equality for Black creators.
"I really love to see more Black people step out into their boldness, because Black people are very creative," said Watson.
Watson encourages students to attend the Open Mic Night to experience the "creativity of every individual's mind," and he hopes people find inspiration from those who present their gifts and story through music.
Watson is releasing his EP, "Time Heals" on March 18. For more information, visit Watson's Instagram.
Miller, a sophomore music major, is a hairstylist and musician. She will be performing an original spoken word at the Open Mic Night.
Miller considers herself a "natural hair fanatic," and has been styling hair for six years, specializing in intricate braiding. Miller views her passion as an art form and an opportunity for ministry.
"I look at every head as a canvas," said Miller. " I feel like I haven't done my job until you have confidence and you feel good about yourself. I think it's therapeutic. I think it's really good for mental health. When you feel good about yourself, and you look good, you feel like the best version of yourself."
Miller said her passion for hairstyling provides her with an opportunity to help someone develop an "outward expression" of who they inwardly are.
Aside from hairstyling, Miller said her first love was music because it provided an escape and safe place from life experiences. She joined Evangelical Singers when she came to Lee and said the community "felt like family."
Miller said the course load for music majors is heavy and often contributes to burnout. To make sure creating music never becomes a "chore," Miller often reminds herself of her "why" for creating music. Her end goal is to work in music therapy.
Miller said she aims to create meaningful, vulnerable music to help people.
"Bringing healing to people who are emotionally and mentally broken, and doing it in a passionate way, is art and music," said Miller.
Miller wants to see more Black creators recognized for their work on campus. She wants representation to become the standard.
"Intentionality is just the biggest part of it," said Miller. "I think uncomfortable or hard conversations, or showing that we do need to be more intentional, should be normal. It shouldn't be labeled as hard or uncomfortable . . .We should always embody unity because when there is unity, anything is possible. Which is why if we were to highlight Black Creators, and if we were to highlight more people within Black excellence, that helps us be more unified."
Miller believes the distinction between equality and equity is important to understanding inclusivity.
Equality means each individual or group of people is given the same resources or opportunities. Equity recognizes each person has different circumstances and allocates the resources and opportunities needed to reach an equal outcome, according to the Merriam-Webster Dictionary.
"If we could move towards equity and unity, and embody that in a real authentic way, then we can be the best version of ourselves, of students who represent the campus of Lee University," Miller said.
Miller expects the Open Mic Night will encourage people to have "open minds" and provide an opportunity to relate to different people's work.
"I think it's really cool when people come together and share their hearts with others," said Miller. "To be a part of that, I think, is a beautiful thing. My expectation is that someone will get a different perspective of whatever someone has to share."
Miller shares the desire for Lee's campus to be open to different experiences or cultures, where the "differences bring us together and not apart."
For more information on Miller's music and hairstyling, visit her Instagram.
For more information on the Black Student Union's Open Mic Night, visit their Instagram.