Lee student petitions university and city for safer street-crossing methods
After a freshman student was hit by a car while crossing the street,
another Lee student started an online petition to create safer crosswalks
on campus.
After a freshman student was hit by a car while crossing the street, another Lee student started an online petition to create safer crosswalks on campus.
On Thursday, Feb. 17, Lee student Evan Neel was hit by a car at the Medlin Hall crosswalk on Ocoee Street.
Neel was transported by EMS to a local hospital, according to the Cleveland Police Department.
As of Tuesday, Feb. 22, Neel has been discharged from the hospital. According to McGraw Eby, a freshman music and worship major and friend of the Neel family, Evan will need months to recover from his injuries.
The CPD reports driver Kailan Andersen hit Neel because she couldn't see the road due to the heavy rain.
"She stated she stopped and realized she had hit a pedestrian," the CPD said.
Following Neel's hospitalization, Garret Wheeler, a senior biology and pre-med major, created a petition listing potential solutions to provide a safer intersection. He directed the message to Cleveland decision-makers, including Mayor Kevin Brooks, various Cleveland City Council members and President Mark Walker. It has amassed 1,528 signatures as of Thursday, March 3.
In his petition, Wheeler said the crosswalk where Neel was hit was the scene of a similar accident in 1995, which resulted in the death of Philip Beale, a 20-year-old Lee student.
Sensor-triggered lights were installed at the crosswalk in 2010.
"Nothing was really done renovation-wise to the crosswalk until 15 years after, in 2010. Even those renovations, I've come to realize, are just not substantial enough," said Wheeler.
Though students said the crosswalk lights went out, Brian Conn, director of communications at Lee, says this is untrue.
"Lee University is aware of an incident last week in which our student, as reported by various media outlets, was struck by a vehicle in the Ocoee Street crosswalk. Our prayers are with him and will be until he recovers fully. There are many aspects of this incident the university is unable to comment on since it is under investigation by the City of Cleveland," said Conn. "However, some misinformation has been circulating that needs to be addressed. The crosswalk lighting system was in fact functional during this incident."
Calls to Cleveland Utilities for clarification were not returned by publication time.
On Monday, Feb. 28, Cleveland City Council held a regularly scheduled session. In this session, over 50 traffic improvement projects were presented to city council members for their consideration.
Mayor Kevin Brooks, according to Fox Chattanooga, says the city is open to making improvements to the crosswalk.
"Everything is on the consideration board, it really depends on how much the university wants to partner and pay for it. And in addition to the fact of how much we can get approved," said Brooks.
Brooks noted Ocoee Street is a part of State Highway 11, meaning any improvements would need to be coordinated with the Tennessee Department of Transportation.
"It's not that we are ignoring it and wish it would go away. It's just a very complicated, complicated matter whenever you're dealing with a street that also happens to be a state highway," said Brooks, according to Fox Chattanooga.
Wheeler outlined several possible solutions for the crosswalk in his petition.
Tunnel or overhead walking bridge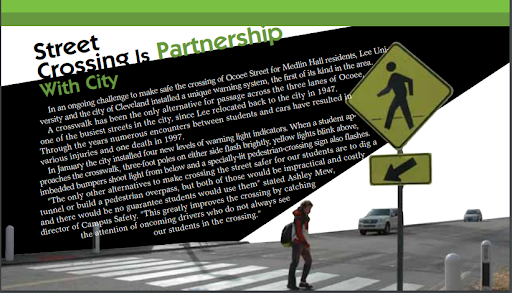 Wheeler cited the Spring 2010 edition of the Torch Magazine regarding the project to add sensors to the crosswalk.
"Campus Security made the following statement: 'The only other alternatives to make crossing the street safer for our students are to dig a tunnel or build a pedestrian overpass, but both of those would be impractical and costly and there would be no guarantee students would use them'," said Wheeler.
Wheeler, a former Medlin Hall resident, said he was almost hit by cars on multiple occasions, and knows from personal experience students would use this alternative method of street-crossing.
"There's been several occurrences where I've witnessed lights turning off — like just not working on the signs. Even if they're working, people just don't see you," said Wheeler. "Practicality should not be a significant part of the question when the lives of students are on the line."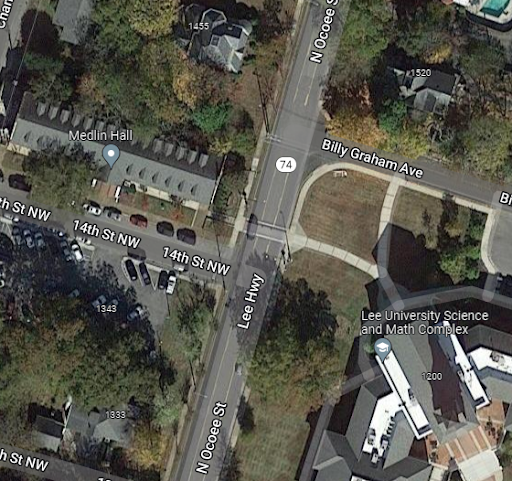 Traffic light at the corner of 14th and Ocoee
By adding a traffic light at this intersection of 14th Street and Ocoee Street, Wheeler said cars would be forced to come to a stop, providing better guidance and safety for pedestrians.
"Or, if not a traffic light, a slow speed zone could be indicated by overhead blinking yellow lights like those before Ocoee Middle School," said Wheeler.
Speed bumps before the crosswalk
Similar to the previous solution, this would force moving cars to slow down when approaching this crosswalk. In addition to the speed bumps, Wheeler said the crosswalk could be elevated, similar to the crosswalks on Parker Street and Paul Conn Parkway.
Emergency power source
"If the above options are deemed too 'impractical,' at the very least an emergency power source should be added to the crosswalk lights," Wheeler said in the petition. "Although it is not clear whether the lights truly stopped working, such a safety concern should definitely be evaluated. The safety of students should never be dependent on the life of the power grid."
Although the petition has sparked conversation and raised awareness of the issue, Wheeler says there's still work to be done.
"I feel like it would be pretty non-controversial to make some renovations for the safety of students so that something like that can't happen again," said Wheeler. "I think now that we are aware, it's the community's responsibility to do something about it."
Eby hopes student safety is taken more seriously.
"I would just hope that practicality is never promoted over safety," said Eby. "I just hope that through this, not only will drivers be more careful, but also students would be more careful. But ultimately, that there would be a solution to the Ocoee crosswalk however impractical as that may be. I think something definitely needs to be done."
To contact TDOT, call (423) 478-0338.
---
Editor in Chief Anna Shand contributed to this article.